The 
Idaho Loop
 ride is a 8 day, 2,549 mile tour starting and ending in Salt Lake City, Utah.  This tour will take you into parts of
Utah
,
Wyoming
,
Idaho
,
Oregon
,
Washington
, and
Montana
.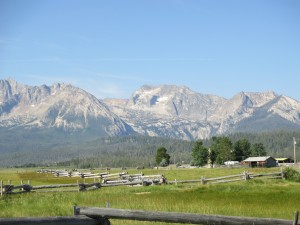 This ride includes the Yellowstone National Park and 3 of the Top 15 Motorcycle Roads as Voted by AMA Members;  #1 Beartooth Highway, #9 U.S. Route 12, Lolo Pass, Idaho and Montana, and #15 Washington Route 129 and Oregon Route 3, Clarkston, Washington, to Enterprise, Oregon.  In addition, this route takes you through the famous Hells' Canyon/Devil's Tail area in Oregon and the Chief Joseph Highway in Wyoming.  Mile for mile, you will not have a better riding trip anywhere.  The tour averages 314 miles per day.  This tour can easily be extended to allow for extra days in areas for hiking and/or sightseeing or add additional riding areas from any of the other greatrideswest.com Tour Routes.
A Note about Google Maps.  If you are clicking on a map link below in the winter time, many of the roads on these tours are closed.  Google will route you around closed roads, so be aware of this issue so you don't plan a trip that excludes many of the highlighted roads.
Route 89, Logan Canyon, is a great mix of twisties and sweepers and ends up at beautiful emerald colored Bear Lake.
Route 34, Soda Springs to Freedom is like a sweeper cart path through farm and ranch land.
Route 26, along the Palisades Reservoir from Alpine to Route 31.  A great high speed set of sweepers.
 Route 31 from the 26 junction to Victor is fun road full of sweepers.
Overnight in Victor, ID.
Route 93 and 75 from Salmon to Stanley are quinesential Idaho roads.  Great pavement,  scale, sweepers, twisties, scenery and virtually no cars.
Overnight in Stanley, ID.
Route 21 from Stanley to Boise is complete with switchbacks, hairpins, twisties and lots of elevation change.  A great road with great views.
Route 55 is a great twistie along the Payette River.
Overnight in Tamarack Resort, ID.
This area is known as Hells Canyon and boasts great riding roads and little traffic.  This is an unheralded, must ride area!
Route 95 is an unsuspecting road featuring sweepers and twisties.
Route 71 starts with great sweepers, but as it approaches Hells Canyon, hairpins and twisties  are in abundance.  This section of road tempts you to ride it over and over again.
Route 39 is somewhat of an unknown road to touring enthusiasts, but the word needs is to get out.  This road consists of Tail of The Dragon type twisties in the woods, but for many more miles.  Along the way is a fantastic lookout over Hells Canyon.
Overnight in Joseph, OR.
There are certain days in a road trip that are magical.  This route is one of those days.
Route 3 sweeps from Enterprise, Oregon for about 70 miles.  About 10 miles from the Washington border the Anatone Grade begins.   As you cross the Washington border the road changes to Route 129, the Rattlesnake Grade.  This combination of roads is arguably the most extreme series of switchbakcs, hairpins and twisties in North America and is combined with great pavement and engineered corners.  This absolutley rivals the Beartooth and the only reason this is not rated higher than the Beartooth or the Tail of The Dragon is because most riders have not been to this area.  This is a must ride road!
Route 12 from Lewiston, Idaho through Lolo Pass and into Missoula, Montana is almost 200 miles of epic sweepers as it winds along the Clearwater River.
Overnight in Missoula, MT.
Yellowstone National Park consists of great riding roads.  The Grand Loop Road from the northwest entrance, through  Mount Washburn and to the northeast entrance offers exceptional riding roads with sweepers, twisties and great scenery.
Overnight in Cooke City, MT.
  The Beartooth has it all; 67 miles of switchbacks, scenery, elevation changes and great scale.  Half of the Beartooth is in Wyoming and Half in Montana.  It is like a Grand Prix track in the Rockies. The Beartooth is consistently ranked #1 for motorcycle roads in the U.S.  When it come to riding, it doesn't get any better than this.  But don't write off the Chief.  The Chief Joseph is one of the most underrated roads in America.   This combination of roads gives you more than 100 miles of amazing riding.
The North Fork Highway (Routes 14/16/20) From Cody Wyoming to the East Entrance of Yellowstone and onto West Thumb is complete with great sweepers and scenery.
Route 89 form West Thumb to Jackson Lake is a scenic ride through Yellowstone.
Teton Park Road through the Teton National Park is a beautiful ride with sweepers and amazing scenery.
Overnight in Jackson, WY.
Route 89 from Jackson to the Route 30 junction consists of sweepers.

Route 150, the Mirror Lake Scenic Byway in Utah is a local favorite with twisties, sweepers and great scenery.
Trip ends in Salt Lake City, UT.