The
Blue Ridge Parkway & Great Smoky Mountains Ride
is a 6 day, 1,684 mile tour starting and ending in Front Royal, Virginia. This tour will take you into parts of Virginia, West Virginia, North Carolina, Tennessee and Kentucky.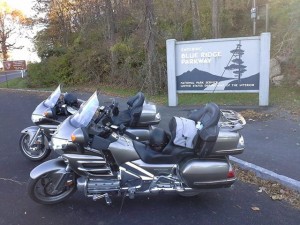 The tour averages 280 miles per day. This tour can easily be extended to allow for extra days in the National Parks for hiking and/or sightseeing. The
Blue Ridge Parkway & Great Smoky Mountains Ride
offers one of the most popular riding areas in North America. The ride is in and around two National Parks,
Great Smoky Mountains
and
Shenandoah
and includes the entire
Blue Ridge Parkway
,
Skyline Drive
and
Cherohala Skyway
. This trip also includes two of the
Top 15 Motorcycle Roads as Voted by AMA Members
;

#12 U.S. Route 33, Harrisonburg, Va., to Seneca Rocks, W.Va. and #3 U.S. Route 129 —

Tail of the Dragon

— on the North Carolina-Tennessee border.
These Routes can be quite crowded during summer months making the best time to do this trip either in early May or late October to early November when there is virtually no traffic.
Note about Google Maps. If you are clicking on a map link below in the winter time, many of the roads on these tours are closed. Google will route you around closed roads, so be aware of this issue so you don't plan a trip that excludes many of the highlighted roads.
ROUTE HIGHLIGHTS:
The Blue Ridge Parkway is billed as "America's Favorite Drive". This construction marvel is a must ride for all motorcyclists and sports car enthusiasts.
Skyline Drive

is a gem of a riding road with amazing vistas and twisties through the beautiful

Shenandoah National

Park

.

Route 33 from Harrisonburg, VA to Seneca Rocks, WV is a

Top 15 Motorcycle Road as Voted by AMA Members

and deservedly so. But don't miss Route 250 towards Church, VA for more fun. Route 250 winds up and down through the woods with tight banked corners.
We pick up the

Blue Ridge Parkway

at the North Entrance in Afton, Virginia and begin the 469 mile journey.
Overnight in Lexington, VA.
We join the

Blue Ridge Parkway

in Buchanon, VA. If you are lucky enough to ride this Parkway in early spring or late October to early November, you will find mile after mile of twisties and sweepers without any traffic. The

Blue Ridge Parkway

navigates along the crest of the

Blue Ridge Mountains

with endless vistas looking east and west through Virginia and North Carolina. This is another example of Roosevelt putting the country to work as we emerged out of the depression in the early 1930's.
There are many small feeder roads to the parkway that wind up and down the the sides of the Blue Ridge Mountains. Take time to ride some of these roads as they are full of tight banked turns and are a lot of fun. Some roads are banked more than 40 degrees.
Overnight in Asheville, NC.
We ride The

Blue Ridge Parkway

to the South Entrance in Cherokee, NC.
The

Great Smoky Mountains National Park

has beautiful vistas and winding mountain roads but
it can be crowded on weekends, so try and plan your visit mid-week.
Route 129, the Tail of The Dragon, on the border of North Carolina and Tennessee is a blast. With 318 curves in 11 miles, this road is one turn after another through the woods. If you visit it in late October or early November, the resorts are closed and you will have the road to yourself.
The

Cherohala Skyway

, built in 1996, is a 41 mile sister road to the Blue Ridge Parkway.
Overnight in Knoxville, TN.
Virginia Route 70 sweeps and twists through the Virginia forests and foothills.
Kentucky Routes 421 and 30 sweeps through forests and farmlands.
Overnight in Jackson, KY.
Rural routes through Kentucky, West Virginia and Virginia sweep through forests and farmlands.
Overnight in Lewisburg, WV.
George Washington National Forest

is a beautiful part of rural West Virginia.
Smoke Hole Road is a local favorite with lots of twists and turns.
Trip in end in Front Royal, VA.