Please
contact us directly
for information on custom self guided trip planning.  All trips are designed to your specifications and budget based on any trip or a combination of trips listed on this site.  Unlike many trip planners, every road on this site has been ridden by the trip planners.
Beartooth Highway All-American Road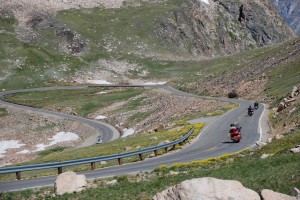 AMA members voted and the
Beartooth Highway
was voted the
#1 Best Motorcycle Road in America.
Route 212 splits between Montana and Wyoming for 68 miles of amazing riding.  It's a site to see, never mind ride.  The Beartooth has it all; dozens of hairpins, sweepers, major elevation changes, low traffic and amazing scenery. Below are the top 15 routes:
15. Washington Route 129 and Oregon Route 3, Clarkston, Wash., to Enterprise, Ore.
14. Ohio Route 170, Calcutta to Poland.
13. California Route 58, McKittrick to Santa Margarita.
12. U.S. Route 33, Harrisonburg, Va., to Seneca Rocks, W.Va.
11. Natchez Trace, from Natchez, Miss., to Nashville, Tenn.
10. Angeles Crest Highway, California Route 2.
9. U.S. Route 12, Lolo Pass, Idaho and Montana.
8. California Route 36.
7. Cherohala Skyway, North Carolina and Tennessee.
6. Going to the Sun Road, Glacier National Park, Montana.
5. California Route 1, Pacific Coast Highway.
4. U.S. Route 550, from Ouray to Durango, Colo.
3. U.S. Route 129 — The Tail of the Dragon — on the North Carolina-Tennessee border.
2. Blue Ridge Parkway, North Carolina.
1. Beartooth Highway, Montana-Wyoming

Complete descriptions, as well as the list of honorable mentions, are available in the April issue of American Motorcyclist magazine, starting on page 30. The feature can also be viewed online.
American Motorcyclist magazine is exclusively for AMA members, and is not available on newsstands. For information on joining the AMA, go to AmericanMotorcyclist.com or call (800) AMA-JOIN (262-5646).