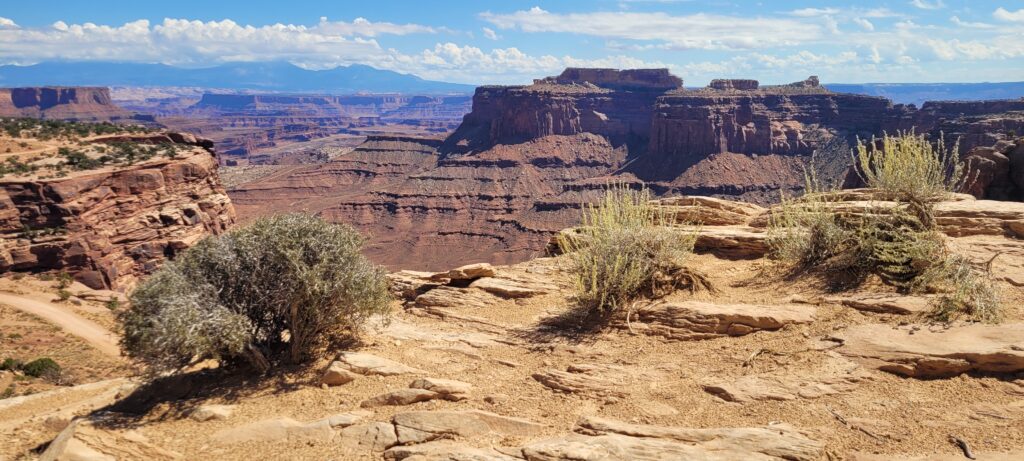 The Red Rock Loop ride is a 6 day, 1,690 mile tour starting and ending in Salt Lake City, Utah. This tour will take you into parts of Utah and Colorado. The tour averages 282 miles per day. This tour can easily be extended to allow for extra days in the National Parks or local areas for hiking and/or sightseeing or add additional riding areas from any of the other greatrideswest.com Tour Routes.
This tour will take you on some well known roads as well as spectacular lesser known roads. The scenery combined with endless great riding roads, lots of elevation changes and limited traffic combine for a spectacular tour.  The ride is in and around four national parks, Arches, Canyonlands, Black Canyon of the Gunnison, Mesa Verde  and includes one Top 15 Motorcycle Road as Voted by AMA Members, #4, U.S. Route 550, the Million Dollar Highway, amongst many great roads.
A Note about Google Maps. If you are clicking on a map link below in the winter time, many of the roads on these tours are closed. Google will route you around closed roads, so be aware of this issue so you don't plan a trip that excludes many of the highlighted roads.
Just outside of Salt Lake are Routes 65 and 66 East Canyon State Park. A perfect start to a trip.
Route 39 Monte Cristo is a fantastic stretch of road with elevation changes twisties and sweepers.
Route 44 through the Flaming Gorge twists through this beautiful area. Make sure you stop at the Red Canyon Visitor Center for fantastic views of the Flaming Gorge
Overnight in Vernal, UT.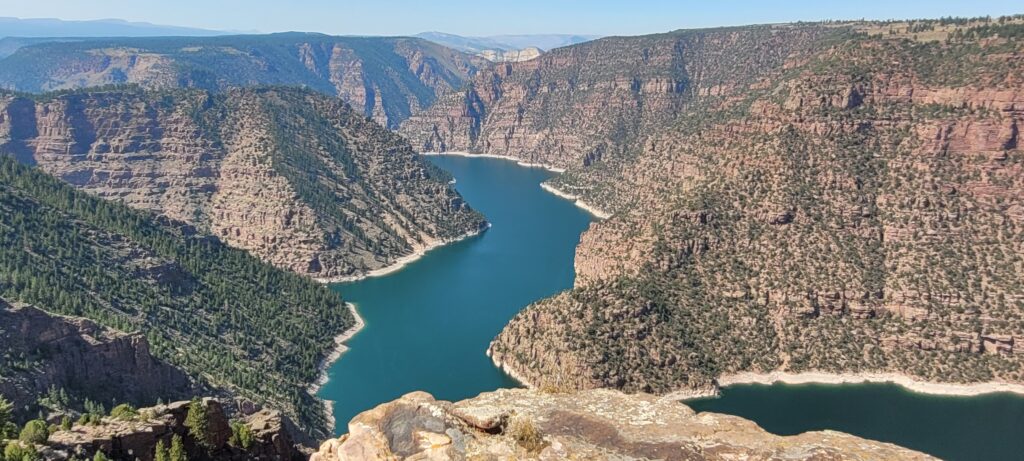 Route 139 sweeps through the high desert to the Colorado National Monument. This is a lesser known, but beautiful road full of twisties and red rock vistas.
Route 141 Unaweep Tabeguache Scenic Byway is another lesser known, but amazing road. Non stop turns, red rock and virtually no cars. Stop at the Gateway Resort for lunch and visit the antique auto museum.
Overnight in Telluride, Colorado.
You begin the day on Route 145, which is the beginning of the San Juan Scenic Byway loop. This is a beautiful, action packed set of roads.
Mesa Verde National Park is a twistie through history. (2-3 hours to tour).
Route 550, the Million Dollar Highway.  The famous stretch from Durango to Ouray is a fun road with hairpins, cliffs and twisties.  Ouray is a quintessential western town.
Overnight in Ouray, CO.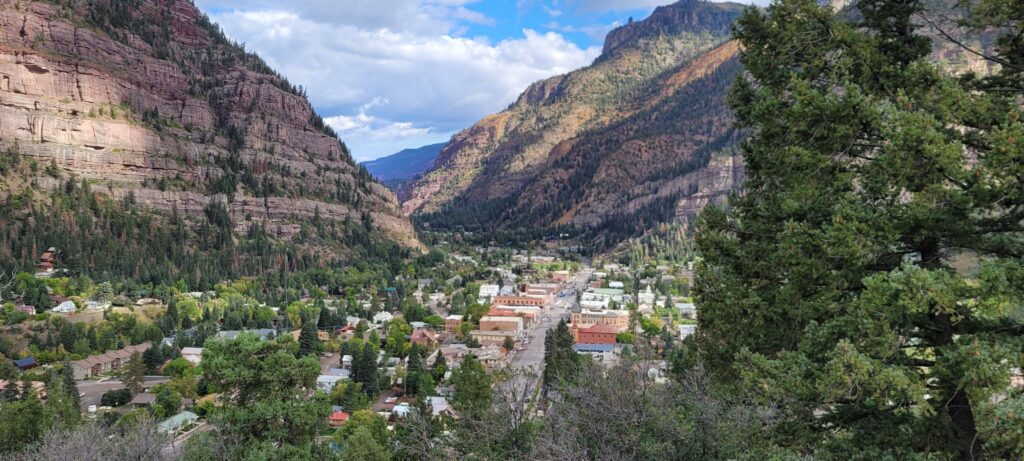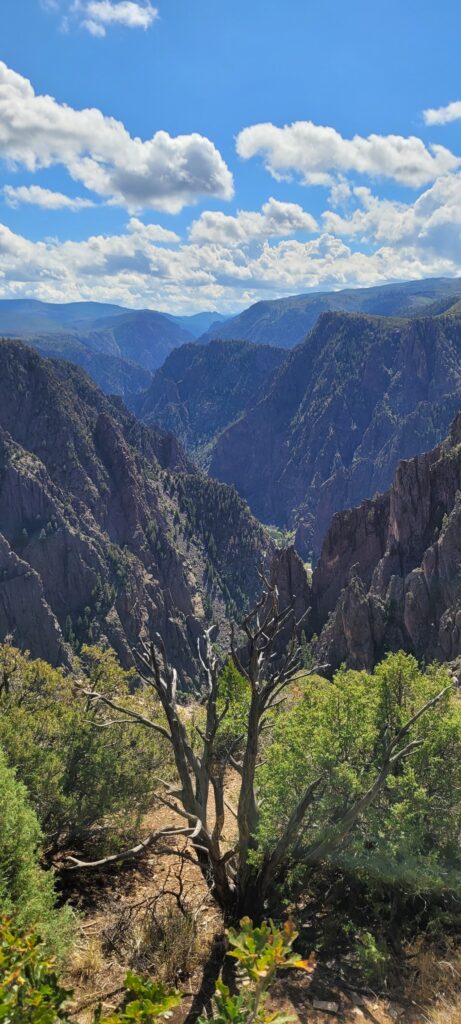 Black Canyon of the Gunnison National Park is a little known, must see National Park that provides a fun riding experience and few people. The East Portal Road down to the river bottom is a steep twistie that is worth the extra few miles.
Route 92 from Supinero to Hotchkiss is an exceptional ridge route with a bit everything, Twisties, sweepers, great scale and pavement, little traffic and great scenery with views of the Black Canyon of the Gunnisson Nation Park. This road matches up with the best of them.
Route 65, the Grand Mesa Scenic Byway, caps off a fantastic riding day.
Overnight in Grand Junction, Colorado.
Route 128, The Upper Colorado River Scenic Byway is another stunning road that winds through red cliffs along the upper Colorado River. There have been numerous movie and commercials filmed in this area and there is a museum at the Red Cliff Lodge that is worth a stop. Also a great place to stay.
Canyonlands National Park is a short drive from Moab and is lesser traveled but an amazing place. The road to Grand View Point Overlook is a fun twistie that you don't want to miss.
Arches National Park is beautiful, but very crowded. Reservations are now required. It is certainly worth a visit if you have the time, but plan accordingly.
Overnight in Moab, CO.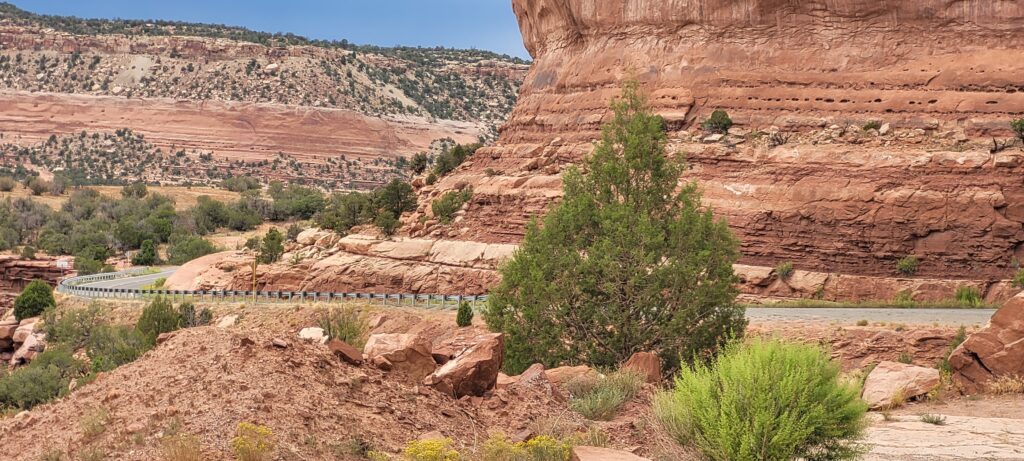 A scenic ride north on Route 191 starts the day.
Route 31, Huntington Scenic Byway, from Huntington to Fairview, sweeps and winds through a beautiful changing landscape.
A perfect way to end a great trip by riding over the Mount Nebo Scenic Byway which winds up to 9,000 feet with beautiful views of Uinta National Forest and Mt. Nebo.
Trip ends in Salt Lake City, Utah.