The 
Pacific Northwest Ride
 is an 8 day, 2,379 mile tour starting and ending in
Portland, OR
.  This tour will take you into parts of
Oregon, Washington, Montana, Idaho, British Columbia and Alberta
.  The tour averages 297 miles per day.  This tour can easily be extended to allow for extra days in the National Parks for hiking and sightseeing or add additional riding areas from any of the other 
greatrideswest.com Tour Routes
.  The 
Pacific Northwest Ride
 offers some of the most popular riding areas i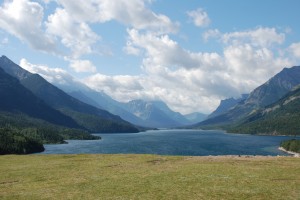 n North America.   The ride is in and around five National Parks;
Olympic
,
North Cascades,
Mt. Ranier
,
Glacier
and
Waterton Lakes
 This trip also includes three of the 
Top 15 Motorcycle Roads as Voted by AMA Members:
  #6 Going To The Sun Road in Glacier National Park, Route #9 U.S. Route 12, Lolo Pass, Idaho and Montana, and #15 Washington Route 129 and Oregon Route 3, Clarkston, Washington, to Enterprise, Oregon as well as a portion of the International Selkirk Route.
 A Note about Google Maps

.  If you are clicking on a map link below in the winter time, many of the roads on these tours are closed.  Google will route you around closed roads, so be aware of this issue so you don't plan a trip that excludes many of the highlighted roads.
ROUTE HIGHLIGHTS:  
This is an action packed riding area full of great roads and amazing scenery.
Oregon has more paved National Forest roads than any state in the country and they are perfect for motorcycles and sports cars. Starting on The Wind River Highway and continuing on NF-90, NF-30 and NF-25 twists and winds you through the woods of northern Oregon.

Don't miss the visitor center and the turn off on NF-83 to Mt. Saint Helens.  This is a great road offering views of Mt. Saint Helens.
The ride into Mt. Rainier National Park on Stevens Canyon Road is a fun mountain road with exceptional views Mt. Ranier.
Overnight in Seattle, WA.
If you are fortunate to ride into Olympic national Park on a clear day, Hurricane Ridge Road is a twisting mountain road with stunning views.
Route 20 takes you island and ferry hopping through the various bays and Deception State Park.
Overnight in Burlington, WA.
We ride north on Route 9 to Route 542, the Mt. Baker Highway which twists to the top of Mt. Baker.
We then backtrack to Route 20, the North Cascades Highway and ride west on sweepers leading to the North Cascades National Park.  This beautiful piece of road winds to the top of the park where a great lookout point has vistas of the park and beyond.
We continue on Route 20 descending to the wild west town of Winthrop.
Overnight in Winthrop, WA.
Route continues to sweep across Washington with fun twisties through the Sherman Pass Scenic Byway.
The Flowery Trail winds from Chewelah to Usk.
Heading north puts us on Route as we begin to ride the famous International Selkirk Route.
We cross the border into Canada on Route 6 sweeping our way to the heart of the Kootenays.
Overnight in Nelson, BC.
Route 3A along the Kootenay Lake is a beautiful twistie and includes a ferry crossing at Balfour as you continue on 3A.
Route 3 sweeps east through the Canadian Rockies on the way to the amazing Waterton Lakes National Park.
Overnight in Waterton Lakes NP, AB.

Glacier National Park is arguably the prettiest park in America and the Going To The Sun Road takes you through it.  This Top 15 AMA Motorcycle Road 

 twists up and down through the park

.  Note: Don't miss the turn off for the short side trip to Many Glacier.
Route 35 along Flathead Lake to Polson with the Mission Mountains to the east is a great road.
Overnight in Missoula, MT.
There are certain days in a road trip that are magical.  This route is one of those days.
Route 12 from Missoula, Montana through Lolo Pass to Lewiston, Idaho is almost 200 miles of epic sweepers as it winds along the Clearwater River.
From Lewiston you take Route 129 where the Anatone Grade begins and turns into the Rattlesnake Grade.  This combination of roads is arguably one of the most extreme series of switchbakcs, hairpins and twisties in North America and is combined with great pavement and engineered corners.  This is a must ride road!
As you cross the border into Oregon you continue on Route 3 with another 70 miles of great sweepers and fantastic views of Hell's Canyon.
Overnight in Joseph, OR.
Route 82, the Wallowa Lake Highway twists and sweeps along the Wallowa River.
We then b-line back to Portland on Route 84.
Trip ends in Portland, OR.