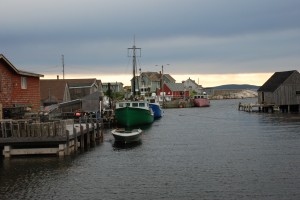 The
Nova Scotia & Cape Breton
Ride is a 5 day, 1,593 mile tour starting and ending in Bar Harbor, Maine. This tour will take you into parts of Maine, Nova Scotia and New Brunswick. The tour averages 261 miles per day. Use or modify the trip information to plan your trip.
Overall Comments: Nova Scotia's proximity to the northeast makes it a popular destination for motorcycle tours for eastern Americans and Canadians. The Cabot Trail on Cape Breton is a grade A riding route, with great scenery which rivals many epic roads around North America. The rest of the province has good road scale with little traffic, but please beware that the pavement on the secondary roads is in poor condition throughout most of the coastal routes. Based on our experience, I would avoid the Yarmouth and Arcadian Shores and most of the Southern Shore. Concentrate on the Eastern Shore, Cape Breton and the Fundy National Park in New Brunswick.
A Note about Google Maps. If you are clicking on a map link below in the winter time, many of the roads on these tours are closed. Google will route you around closed roads, so be aware of this issue so you don't plan a trip that excludes many of the highlighted roads.
Day 1 Maps & Directions: 233 Miles
Tour Arcadia National Park and Ride Route 9 Maine to St. Johns, NB and catch the late ferry to Digby, NS. Overnight in Digby, NS. Note: Mileage does not include touring Arcadia National Park.
Day 2 Maps & Directions: 321 Miles
Ride to Lunenburg (UNESCO Site) and Peggy's Cove a beautiful picturesque fishing village. Overnight in Halifax, NS.
Day 3 Maps & Directions: 316 Miles
Ride Route 7 to Baddeck, NS. Overnight in Baddeck, NS.
Day 4 Maps & Directions: 297 Miles
Route 312, through the Cabot Trail is a great ride. Consider spending more time in this area and riding the Cabot Trail twice (once in each direction) as this is by far the best riding and scenic area in Nova Scotia. Continue on to Pictou, NS. Overnight in Pictou, NS.
Day 5 Maps & Directions: 297 Miles
Ride through the Fundy National Park to see the amazing tides and then sweep your way to St. Johns, NB on Route 111. Overnight in St. Johns, NB.
Day 6 Maps & Directions: 261 Miles
Ride Coastal Maine Route 1 with some fun side trips along the coast on the final leg to Bar Harbor, ME.