The Colorado and New Mexico ride is a 6 day, 1,768 mile tour starting and ending in Denver, Colorado. This tour will take you into parts of Colorado and New Mexico. The tour averages 295 miles per day. This tour can easily be extended to allow for extra days in the National Parks for hiking and/or sightseeing or add additional riding areas from any of the other greatrideswest.com Tour Routes.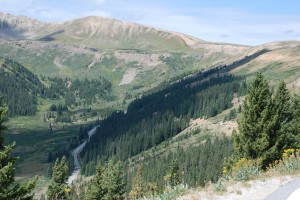 While many debate over the best roads around North America, it is arguable that Colorado offers the best overall riding experience of any state. The scenery combined with endless great riding roads, lots of elevation changes and limited traffic combine for a spectacular tour. The ride is in and around four national parks, Rocky Mountain, Black Canyon of the Gunnison, Mesa Verde and Great Sand Dunes and includes one Top 15 Motorcycle Road as Voted by AMA Members, #4, U.S. Route 550, other known as the Million Dollar Highway, amongst many great roads.
A Note about Google Maps. If you are clicking on a map link below in the winter time, many of the roads on these tours are closed. Google will route you around closed roads, so be aware of this issue so you don't plan a trip that excludes many of the highlighted roads.
Route 34 through Rocky Mountain National Park is a high altitude ride through amazing scenery. This is what Colorado is all about!
Route 6, Loveland Pass is a fantastic stretch of road with elevation changes twisties and sweepers.
Route 82, Independence Pass from Twin Lakes to Aspen. A narrow twistie with hairpins.
Overnight in Aspen, Colorado.
Route 133 from Carbondale to Hotchkiss continuing on Route 92 to Blue Mesa Reservoir and continuing on Route 50 to Montrose. This is an exceptional route of riding with a bit everything, twisties, sweepers, great scale and pavement, little traffic and great scenery with views of the Black Canyon of the Gunnisson National Park. This route matches up with the best of them.
Black Canyon of the Gunnison National Park is a must see.
Route 550, the Million Dollar Highway. The famous stretch from Ouray to a few miles past Silverton is a fun road with hairpins, cliffs and twisties. Ouray is a quintessential western town.
Overnight in Durango, Colorado.
Mesa Verde National Park is a twistie through history. (2-3 hours to tour).
Route 511 from the New Mexico border to the Navajo Lake is a nice road with sweepers.
Route 64 is a great riding road that sweeps its way through canyons, prairie and forest into Dulce.
Overnight in Dulce, New Mexico.
Route 84 has sweepers through beautiful orange, red and gold canyons and Mesas.
Route 96 weaves its way across the desert from Abiquiu Reservoir to Route 550.
Route 4 from Jemez to Los Alamos is a grade A route with a bit of everything including the beautiful Valles Caldera Preserve.
Route 68 from San Juan to Taos is sweepers through high altitude canyons, forest and prairie.
Overnight in Taos, New Mexico.
The Enchanted Circle, Route 84 is a great ride. From Taos to Eagle Nest is a fun filled ride with twisties and hairpins reminiscent of The Tail of the Dragon. Route 36 from Eagle Nest to Red River (another great western town) is sweepers through prairie and forest. The final leg to Questa is filled with sweepers through canyons.
Route 149 from South Fork continuing on Route 50 to Gunnison is a 126 miles of fun with endless twisties, lot of elevation changes and some hairpins thrown in. This is a must ride.
Overnight in Crested Butte, Colorado.
Route 67 from Woodland to Sadalia is another great twistie.
a side trip to Pike's Peak should also be considered.
Trip ends in Denver, Colorado.