The Northwest Volcanos, Redwoods and Cascades Ride is a 8 day, 2,584 mile tour starting and ending in Reno. Nevada. This tour will take you into parts of Nevada, California, Oregon, Idaho, and Washington and averages 323 miles per day.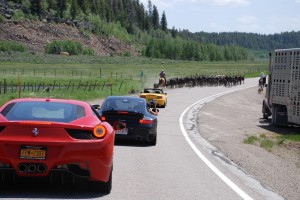 The Northwest Volcanos, Redwoods and Cascades Ride offers one of the most diverse riding areas in North America. The ride is in and around three national parks, Lassen Volcanic, Redwood and Crater Lake, and includes beautiful Lake Tahoe. This ride includes 3 of the Top 15 Motorcycle Roads as Voted by AMA Members; #8 California Route 36, #9 U.S. Route 12, Lolo Pass, Idaho and Montana, and #15 Washington Route 129 and Oregon Route 3, Clarkston, Washington, to Enterprise, Oregon. This tour can easily be extended to allow for extra days in the National Parks for hiking and/or sightseeing or add additional riding areas from any of the other greatrideswest.com Tour Routes including Sturgis.
A Note about Google Maps. If you are clicking on a map link below in the winter time, many of the roads on these tours are closed. Google will route you around closed roads, so be aware of this issue so you don't plan a trip that excludes many of the highlighted roads.
Starting out from Reno, Nevada, twist up the Mt. Rose Highway (Nevada Route 431) for a great view of

Lake Tahoe

. Optional: Consider staying at South Lake Tahoe. The loop around Lake Tahoe is a beautiful ride (Routes 28 to 50 to 89), just keep in mind that the Route has a lot of traffic and will be a slow and congsted ride.
California Route 89 north of Truckee all the way to

Lassen Volcanic National Park

is miles of great sweepers.
A must ride deviation is the Gold Lake Loop. Just north of Sierraville you take California Route 49 north to the Gold Lake Highway and back to California Route 89. This is a twistie with views that remind you of the Tetons.
Another short route deviation on California Route 172 that loops back to California Route 89 is a twistie through the woods.
California Route 89 through

Lassen Volcanic National Park

is a great ride full of twisities and great scenery.
Overnight in Redding, California.
An action packed day begins with twisties and hairpins on old California Route 3 (Wildwood Rd). If you want to throw your bike around, this road is a blast. Note: make sure take Old Route 3 (Wildwood Rd), not Route 3.
California Route 36, a Top 15 AMA riding road, sweeps and twists across northern California with a special section through

Grizzly Creek Redwoods State Park

.

Avenue of The Giants

, home to the tallest trees in the world, in

Humboldt Redwoods State Park

has traffic, but is worth the scenery.
Overnight in Eureka, California
California Route 299 is twistie enroute to Route 96.
Californis Route 96 (Bigfoot Scenic Byway) is a quinnessential motorcycle and sports car road. This is a high speed sweeper with great scale and pavement winds along the Klamaoth River for 145 miles. It appears to be an unknown road and is a must ride.
Rim Drive in

Crater Lake National Park

offers awe-inspiring views of this great National Park.
Overnight in Diamond Lake, Oregon.
Oregon caters to anything with two wheels more than any other state in the country. Their tourism is tilted heavily towards motorcycles and bicycles. There are endless miles of National Forest Service Roads that have been paved as well as many state routes that offer fantastic rides.
National Forest Service Road 19 offers 65 miles of twisties and hairpins through the Williamette National Forest.
Oregon Route 242, the

Old Mackenzie Highway

is an amazing experience. You begin with hairpins as you wind up to the summit and then you twist your way past

Mt. Washington

and the surrounding ancient lava fields down into the town of Sisters. Note: be careful not to miss the Route 242 turmoff.
US Route 26 from Bend to Prairie City consists of non-stop sweepers with great scale across central Oregon.
Overnight in Prairie City, Oregon.
You won't have a more action packed day than this route on any riding trip. This is one of the best combination of roads in North America.
Oregon Route 7 sweeps and twists across Baker City.
Oregon Route 86 is part of the Hells Canyon Scenic Byway. This area is known boasts great riding roads and little traffic. This is an unheralded, must ride area! Route 86 consists of great sweepers and twisties with perfect scale and pace.
National Forest Road 39 is somewhat of an unknown road to touring enthusiasts, but the word needs is to get out. This road consists of Tail of The Dragon type twisties in the woods, but for many more miles. Along the way is a fantastic lookout over Hells Canyon.
Oregon Route 3 sweeps from Enterprise, Oregon for about 70 miles. About 10 miles from the Washington border the Anatone Grade begins. As you cross the Washington border the road changes to Washnington Route 129, the Rattlesnake Grade. This combination of roads is arguably the most enjoyable series of twisties in North America and is combined with great pavement and engineered corners. This is a must ride road!
Overnight in Lewiston, Idaho.
US Route 12 from Lewiston, Idaho through Lolo Pass and into Lola, Montana is 206 miles of epic sweepers as it winds along the Clearwater and Lochsa Rivers. This top 15 AMA Road is a fast road with great scale.
US Route 93 twists its' way along the border of Montana and Idaho into the rugged town of Salmon Idaho.
Overnight in Salmon, Idaho.
US Route 93 and Idaho Route 75 from Salmon to Stanley are quinnessential Idaho roads. Great pavement, scale, sweepers, twisties, scenery and virtually no cars.
Idaho Route 21 from Stanley to Boise is complete with switchbacks, hairpins, twisties and lots of elevation change. A great road with great views.
Overnight in Boise, Idaho.
A cruiser day gets us back to Reno on US Route 95 and I-80 through parts of Idaho, Oregon and Nevada.
Trip end in Reno, Nevada.